Community.

Clothing Swap with Saikuru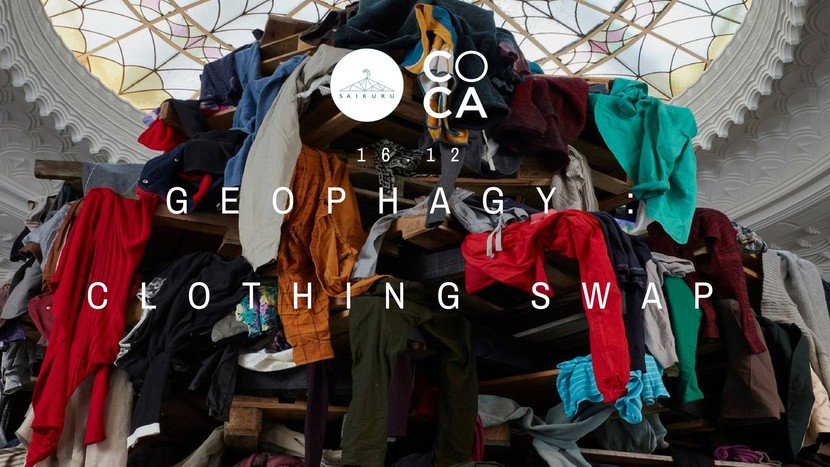 CoCA has partnered with Saikuru, a one woman band in the fight against fast fashion!

Saikuru's famous clothing swap is coming to CoCA for the opening weekend of new exhibition Geophagy.
"At the core of our clothing swap events is the fight against fast fashion and the unsustainable consumption of clothing. Ruth's take on this with Geophagy puts this issue across in a very physical, and undeniably real way, in sculpture and video form. We feel privileged to be a part of the opening weekend for this exhibition.
"One thing we can do as individuals about fast fashion is to wear second-hand clothing."
Saikuru clothing swaps are very simple:
It's simple:
1. Bring a bag of clothing along you wish to swap and volunteers will put it out on the tables.
2. Take away as much clothing as you want, there's no limit!
3. Walk away with some new threads and the chance to reflect on our troubling clothing habits.
About Saikuru:
Saikuru is a one woman band run by Alice Ridley to spread the message of slow fashion and everyday sustainability. Saikuru the is Japanese word for cycle to relate to the cycles of our waste. Born in November 2016 out of the need to educate consumers about the fast fashion industry Saikuru has now pivoted to activating individuals in practical ways to reduce their impact. This is done through a weekly radio show on RDU 98.5FM where Alice and guests talk about the many ways to be sustainable on a daily basis.
Follow the Facebook event page for updates: facebook.com/events/1420573474647603/
**Entry by Koha**