Performance.

MilkSpa Closing Performance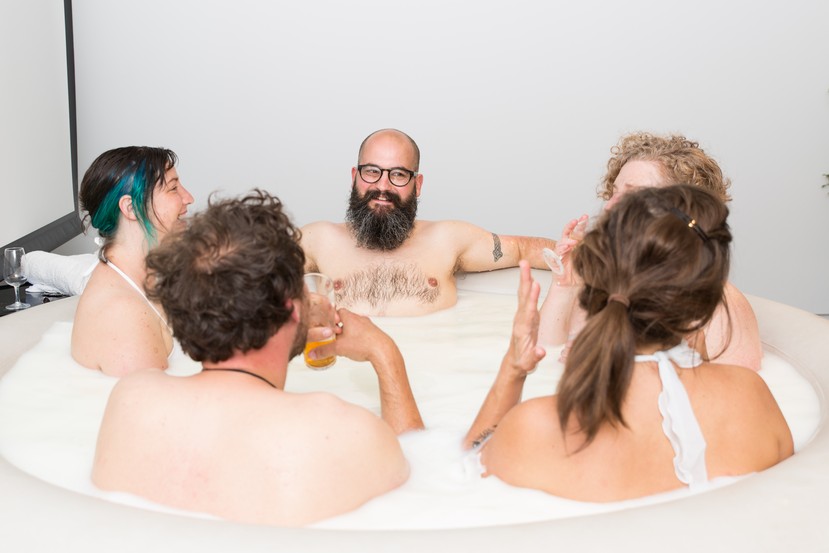 Gaby Montejo invites participants to consider the underlying cost of their milky coffee; asking ""Is it worth it?", "To what end?" and "For the benefit of whom?"
Join us for this final opening of MilkSpa, during which the spa will be filled with soy milk rather than dairy. Listen to participants with stakes in dairy discuss relevant issues. The first half hour will be a scheduled performance, following which audiences have the opportunity to become a participant and enter the spa.
Some swimwear is available to borrow, but you are most welcome to bring your own and a towel. Changing is in the toilets at CoCA and there is a cold hose out the back to rinse off afterward if you wish to. Participants must have showered within 24 hours of enetering the spa, and should have no open cuts. Jewellery should not be worn.

--
The dairy sector is a major player in our land of milk and honey, whether you're speaking ecologically, economically or culturally. It's a lot to think about. Agriculture has vastly changed the landscape of Aotearoa. The country has seen the loss of nearly 75 percent of its native forest since the arrival of humans on its shores, and has a paltry 10 percent of its original wetlands remaining; much of the land cleared and drained to make way for farming.
Dairying contributes hugely to our economy; we're the largest exporter of dairy world wide and we export 95 percent of our produce. It's cheaper to buy New Zealand butter in the UK than it is here. Meanwhile, our lowland rivers are mostly unswimmable, with nitrate run offs from intensive farming often cited as key culprits in their degradation.
During the opening and select dates during the exhibition, the Honeymoon Latte installation is activated, hosting discussion about this pervasive issue that has the potential to bankrupt the whole country. It is a vessel for casual conversation to occur; participants in bathing suits start on equal footing. Montejo has invited a cross section of people with different stakes in the industry - ecologists, farmers, lawmakers and chefs. At certain times, anyone who has an opinion on or stake in dairy can enter the pool and be heard. In the gallery's bathrooms one will find swimwear and robes provided for the public to use.