Performance.

The Social: Political Plan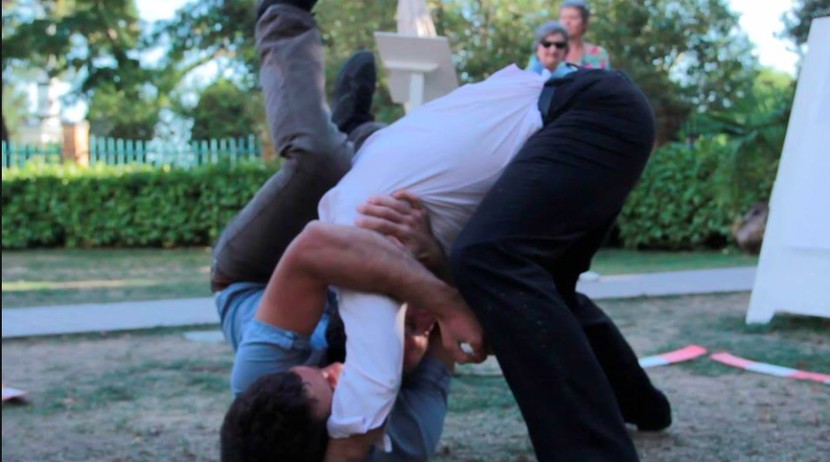 As part of MAKING SPACE, The Social presents the Street Residency. Each week a different artist will take up 24/7 residence in a caravan on the forecourt of Christchurch Art Gallery.
This week in The Social Street Residency:
Political Plan, Mark Harvey
"Heal the world
Make it a better place
For you and for me
And the entire human race…" (Michael Jackson, 1991)
Feeling like you want to have a say but never get to say it?
Do you like to send things in other ways?
Can't stand politicians?
Want to be part of something bigger than a caravan?
Do you like the colour pink or yellow?
Politics for many of us is like a love-hate relationship with the grumpy old guy who everyday roams past your house with his little yappy dog along your street. You never know when the yappy dog will try and yell you down. What might happen if we try to spend time with this dog and explore notions of democracy and political opinion, not only locally but with the other side of the world, physically and telepathically?
In this residency titled Political Plan Mark Harvey will engage with a range of strategies towards inviting and generating political proclamations and manifestos by members of the public and other artists in addition to himself, in the here and now and somewhere else. Through the flesh, video and extracurricular mind transference, the project will promise notions of collective democracy and be alive and in Christchurch and simultaneously in a camping ground in Switzerland. Political Plan will connect with other artist projects in the exhibition in addition to The Physics Room and Circuit (Artist's Film and Video Aotearoa).
Please join Mark in the caravan or as he roams around somewhere near the caravan in his quest for political conversations and proclamations.
_______________________________________
This Artist-In-Distance (Thinking) Residency is for an artist from New Zealand to spend a non-physical residence in a Swiss mountain valley during the International Art Festival Belluard Bollwerk, while they will be physically present in The Social Collective's caravan in front of the Christchurch Art Gallery as part of the Making Space exhibition at CoCA. The selected artist Mark Harvey will be asked to investigate bilocation, digital communication, quantum motion and/or telepathy as an artistic practice.
Nomad (Thinking) Residency is an artistic residency program run by the Swiss artist Martin Schick, irregularly popping up at rather unusual places for rather unusual kind of artists. The project aims to co-exist within most different contexts, each time reacting to the given situation, aiming to challenge the notion of art residency, discussing and stretching the idea of what a residency is and can be, as much as what an artist is and can be.
Artist-In-Distance is reflecting on the relation of global thinking & local living, saving travel costs, reducing carbon emissions, aiming to produce poetic and funny side effects and experience a beautiful long-distance relationship.