Workshop.

Youth Script Writing and Performing Arts Workshop with Victor Rodger and Anapela Polataivao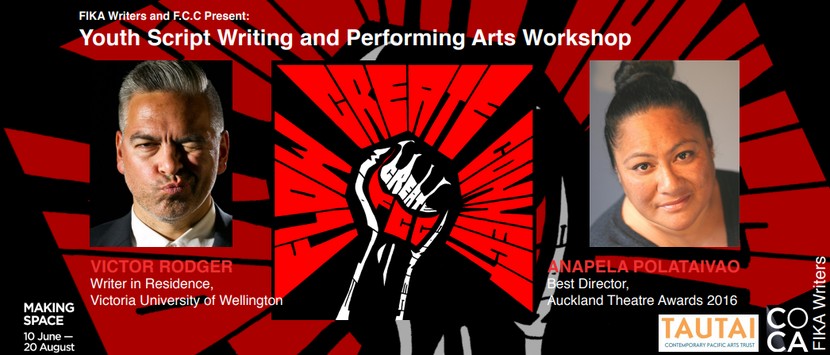 FIKA Writers are beyond excited to bring to Ōtautahi, two of New Zealand's top theatre practitioners - Victor Rodger and Anapela Polataivao for a fantastic FREE F.C.C.* Script Writing and Performaning Arts Workshop for Māori and Pasifika in Ōtautahi aged 16-18 who are passionate about performing arts.
During this two day workshop, participants will develop their skills under the mentoring of these experienced practitioners to develop scripts and work collaboratively to produce works. This will also be a great networking opportunity for those looking to pursue a career in the arts. Spaces are very limited, so please apply as soon as possible!
Who can apply: Māori and Pasifika aged 16-18, passionate about performing arts. NB: if you are outside this age range and still keen, you can apple and we'll let you know if there are places available.
When: Saturday 29 – Sunday 30 July 2017
Time: 10 – 5pm each day
Cost: FREE – lunch, morning and afternoon tea provided
To apply: Please email fika.writers.making.space@gmail.com or PM us @fikawriters on Facebook ASAP with a couple of lines about why you want to be part of the workshop. Make sure you include your name and Facebook name, email address and cellphone number in your message. Successful applicants will be notified by phone or email by Thursday 27 July 2017.
*F.C.C. stands for the FLOW of energy; CREATING a platform for Pasefika practitioners; and CONNECTING young practitioners with veterans.
This workshop is proudly supported by TAUTAI and CoCA as part of FIKA Writers contribution to the MAKING SPACE exhibition.