Toolbox Talk.

Speak Up Kōrerotia | Crossing The Bridge talks and screening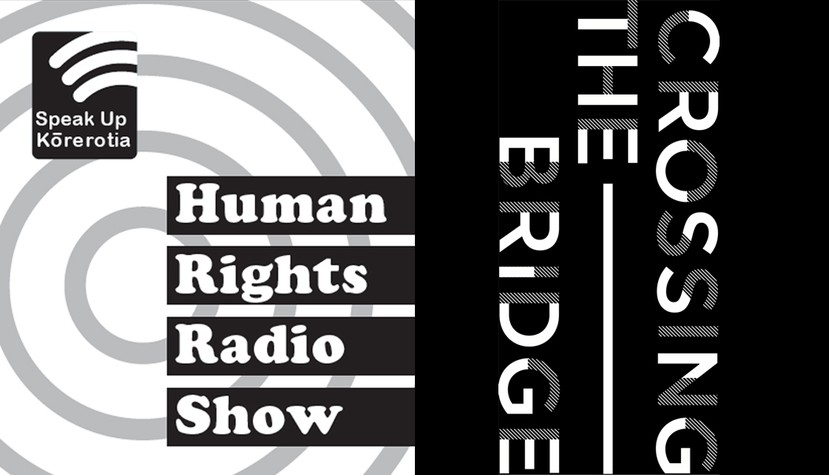 Join us for a double bill of talks and a celebration, 5:30PM in the Ground Floor Gallery.
SPEAK UP KŌREROTIA - SALLY CARLTON
Sally Carlton of Speak Up Kōrerotia Human Rights Radio Show series celebrates the show's relaunch with us and reflects on Vertigo Sea and Tirohanga.
Speak Up Kōrerotia covers some of the key issues relating to human rights and provides a space for guests to "Speak Up" and share their thoughts and experiences.
If you'd like to listen to the show live you can do so on 96.9 Plains FM every third Wednesday of the month at 9pm and every third Sunday of the month at 5pm.
Having lived in countries across four continents, Sally Carlton is now based in Christchurch. She works for the New Zealand Human Rights Commission and the Citizens Advice Bureau, and conducts her academic pursuits into the situation in post-earthquake Christchurch. She is also involved in the 'ANZAC Remembered' project headed by Monash University in Melbourne, which aims to gauge attitudes to the commemoration in various locations around the world, and hosts the human rights radio show "Speak Up-Korerotia."
--
CROSSING THE BRIDGE
We toast the installation of a series of portraits from the Crossing The Bridge project at Lux Cafe at CoCA. The Crossing The Bridge short film will be shown, followed by a discussion of the project with photographer Petra Mingneau and participants from the Ashburton Community included in the exhibition.
Crossing the Bridge is a Project carried out by Anthropologist Sophie-Claire Violette, Photographer Petra Mingneau, Videographer Vanesa Paredes and Producer Lucy Holland. It focuses on migrants and their experiences integrating into a new community and creating a sense of belonging while negotiating their own identities in different communities.
The project was exhibited in Ashburton at Baring Square East, in the form of multidimensional public art exhibition which brough together photography, film and individual narratives. Eight portraits from the series are now being exhibited at Lux Cafe at CoCA.
Entry by Koha