Close
Steve Carr
Watermelon, 2015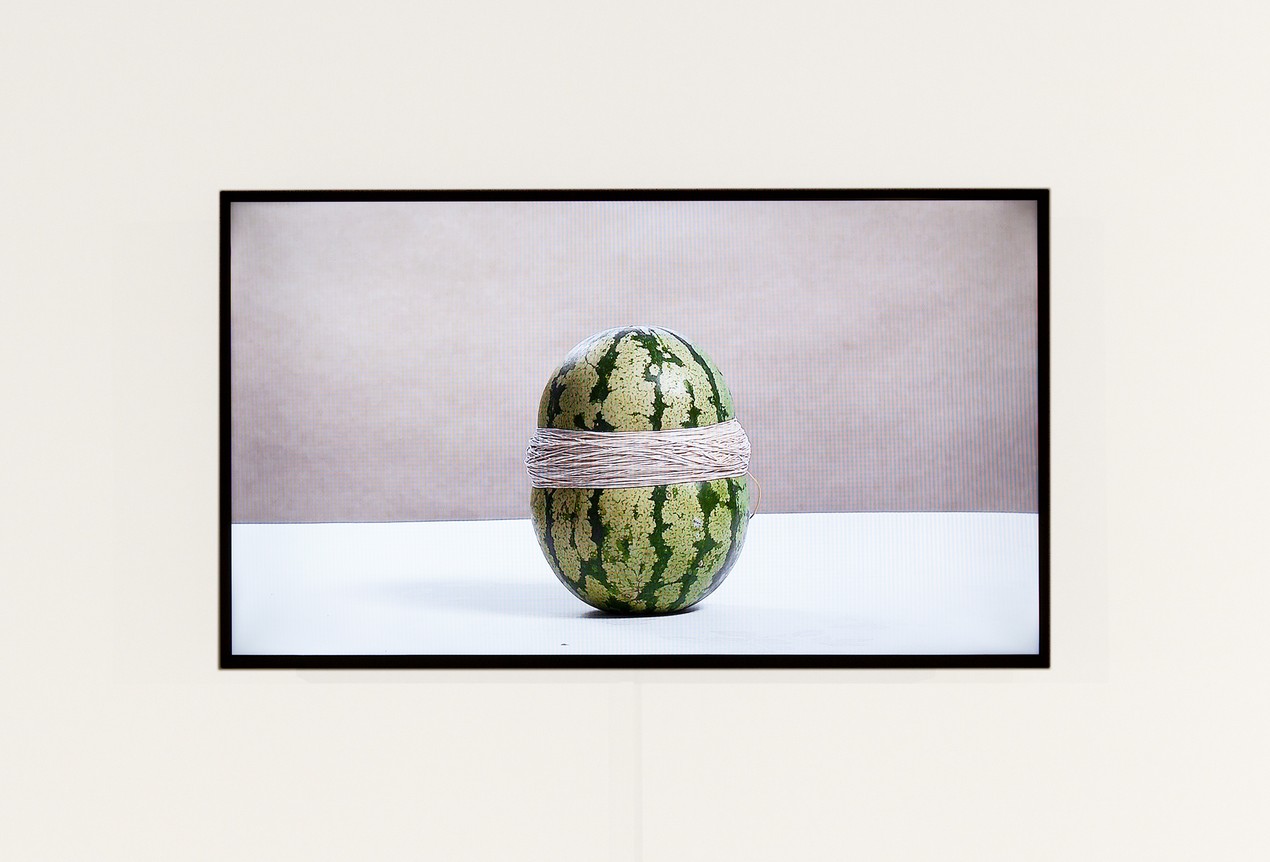 Steve Carr's practice often demonstrates a fascination with moments of material transformation, playing with tension and our perception of time. Seemingly mundane or moments, such as the bursting of balloons or bubbles, are made magical; the split seconds of these actions drawn out in ultra-slow-motion high definition and displayed larger than life.

In Watermelon, 2015, two people methodically stretch rubber bands around a watermelon. Carr has formalised the web-sensationalisation of this activity, displaying the full length of this action in a gallery setting. He denies us the instant satisfaction of scrolling through the video online to start the film just before bursting point, and the humour and empathy that comes from watching a wider shot with anxious participants. The only sound is the rubber bands rhythmically snapping tight around the watermelon. There is something about this action that fascinates us; Buzzfeed staff live streamed a performance of this action recently, and at the peak of its 45-minute runtime, 807,000 viewers were watching at the same time. The film has since been watched over ten million times.

Bubble Cactus is a piece of found footage recorded on a Phantom HD camera that is stretched from 30 seconds to ten minutes to make visible the invisible. In the split seconds drawn out to minutes, the spines of the cactus slowly perforate the membrane of the bubble. The light ripples across the surface - the bubble quivers, then explodes. We are used to bearing witness to cinematic time manipulation through our daily image consumption; nature documentaries and sporting fixtures have been showing us intimate details of how the world works for decades- the speeding up of plants growth through time lapse, or the slow motion replays of sporting fouls. However, Carr's work removes the familiarity of the scene and imbues it with a sense of tension which builds to an epic soundtrack. Recorded by the Voyager space probes launched by NASA in 1977, which gathered field recordings of the interaction between the solar wind and the magnetosphere of various planets and moons in the Solar System. Once again, without our usual control over the pace we consume, we are forced to sit it out.
Photo Credit: Daniela Aebli