Close
Alex Monteith
Rena Shipping Container Disaster, 2011 (ongoing)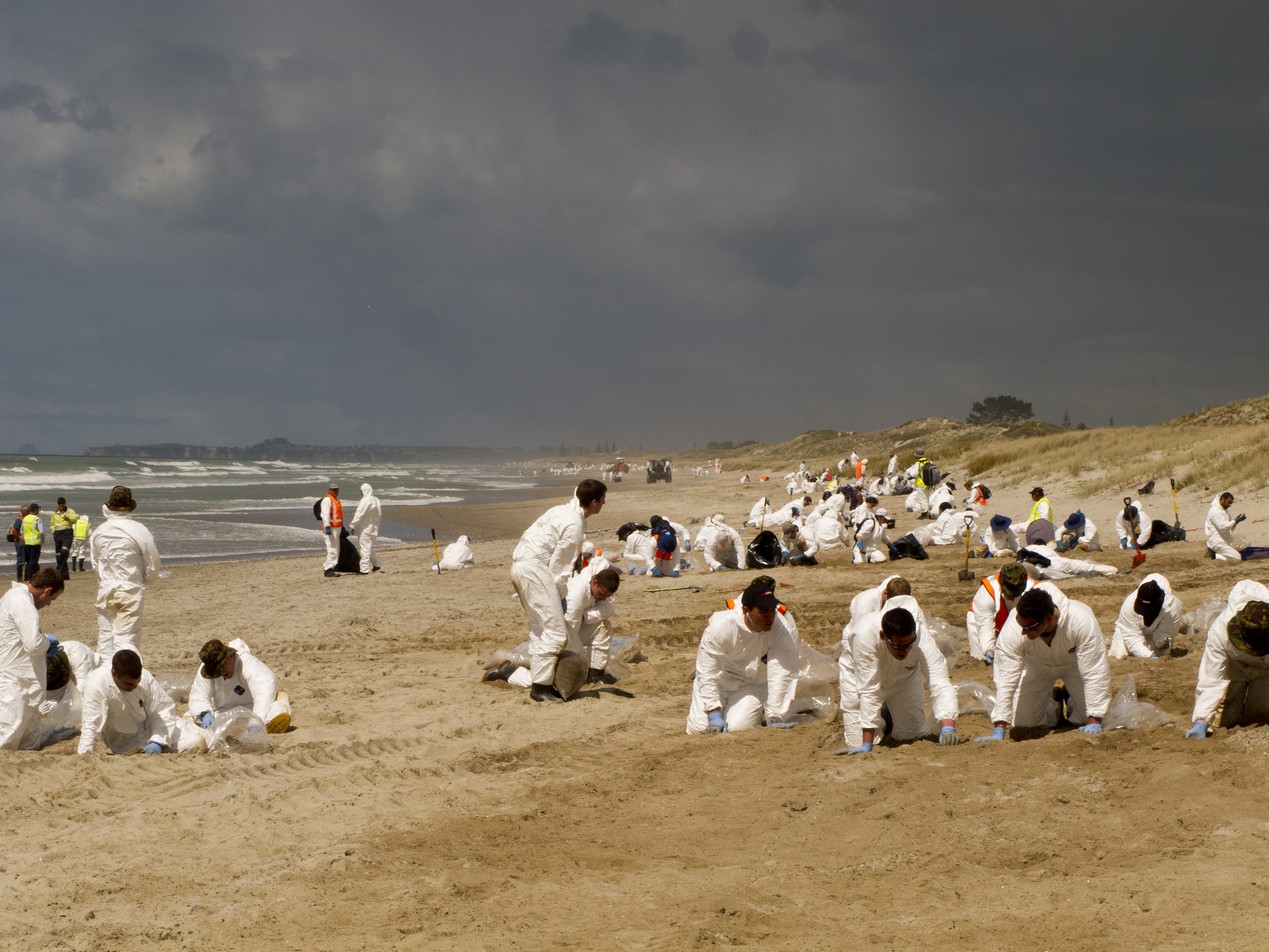 Rena Shipping Container Disaster, 2011- ongoing
Video intallation
courtesy of the artist

In October 2011, the shipping container vessel Rena ran aground on Astrolabe reef, Te Moana a Toi, off the Tauranga coast, Aotearoa in fair weather, creating a 5 kilometre oil slick, threatening wildlife and the area's rich fishing waters.

Alex Monteith, whose practice has evolved from experimental documentary film, was one of many who went to help in the aftermath and footage and stills additional to what is seen here, were used by Greenpeace in their coverage. The resulting series of videos are comprised of long-take documentary shots, filmed at Papamoa in the week after the wreck occurred, and then at Waihi beach in 2012 when some of the containers from the still-stranded vessel washed ashore.

The footage shows the dedicated clean up by the Defence Force and civilian volunteers. Wide shots against a hazy horizon show hundreds of people painstakingly removing heavy-fuel contaminated sand by hand, dressed top to toe in matching safety gear. Orange diggers interrupt the framing, shifting bags of hazardous waste from the foreshore to somewhere else and army trucks move up and down the beach. Besides the vehicles, all is eerily quiet.

The scenes are surreally familiar. The Deepwater Horizon Spill in the Gulf of Mexico captured the world's attention in 2010; we recognise the same oil slicked wildlife, desperately pathetic; the overwhelming impact of disaster on local communities, reliant on their ocean. Here in Aotearoa, in what as become one of the most costly salvage jobs in the world, we see localised consequences of our reliance on fossil fuels and a global economy built on shipping goods internationally.

The scale of the clean-up illustrates how unprepared we are for a disaster on a larger scale. Rena was merely one container vessel. With the environmental and economic impact of this event still fresh in our memories, should the government be so keen to welcome international oil giants to explore the coasts of our shaky, volcanic isles? Where do we draw our line in the sand?